'Pet portraits' Artist Trying to Save One of Nature's Great Masterpieces

By Cynthia Hubert – Bee Staff Writer
Published 12:00 am PDT Saturday, September 15, 2007
Story appeared in SCENE section, Page K1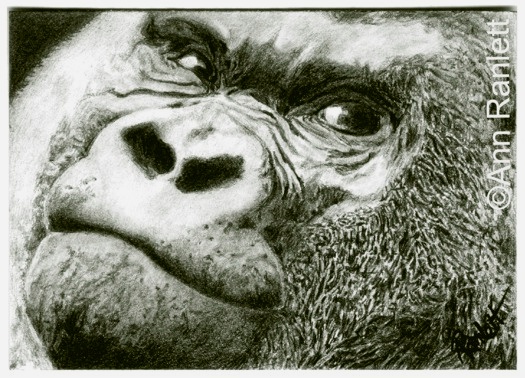 "Gorilla Gaze #2 was created in graphite by artist Ann Ranlett.
People are OK, Ann Ranlett says. But animals are the Northern California artist's preferred subjects.
Ranlett paints and draws commissioned "pet portraits" and nature images, and she's one of more than 30 artists from around the world contributing work to a benefit eBay auction to help fund the protection of mountain gorillas in Africa.
We talked to her by phone from Newcastle, where she shares a home with her husband, John, border collies Magpie and Patch, and a quarterhorse named Bess.
Q: Why animals?
A: I have always been fascinated with animals. I've been drawing them since I could hold a crayon. In general, they have kind natures, and that's why I have an affinity for them. People are good, too, but I don't do artwork of them.
Q: You're a biologist by training?
A: Yes, and so is my husband. We met at Sac State. The biology background definitely helps with my artwork. I'm a very detail-oriented, scientific person, and that eye for detail works well in my portraits.
Q: Do you meet most of your animal subjects before painting or drawing them?
A: If it's a portrait of someone's pet, I like to meet the person and the animal to get a sense of the personality. I take a whole bunch of photos, pick four that work well and let the owner make the final decision.
Q: What types of animals are the most difficult to work with?
A: Cats are always challenging. They love their own people, but when it comes to anyone else, they would rather go hide under the bed. But I have worked with a couple of older ones who are happy to lie around and look at me.
Dogs are easy. All you need is a tennis ball or a cookie and they are very cooperative.
Q: What is Art for Critters?
A: It's a group of artists who sell their work on eBay and donate portions of the proceeds to various animal organizations and charities. You can find our eBay auctions by searching for "A4C."
One of the members of the group alerted us to the recent killing of members of a family of mountain gorillas in Virunga National Park in the (Democratic Republic of) Congo. The rangers in the park have limited personnel and funds to protect the remaining members of the family and to catch the killers. So artists are joining forces to support them. The new group is called Art Helping Mountain Gorillas.
Q: How does the project work?
A: Through (Tuesday), more than 30 very talented artists will be listing art on eBay. There are more than 100 items, most of them animal-themed. If the items sell, the artist donates 10 percent to 100 percent of the proceeds to help the gorillas. I'll be donating 50 percent.
To see the artwork, people should get on eBay and type in "WDGP." All of the auction items will come up.
Q: Where can people go for more information about your work and this project?
A: My Web site is petportraitsbyann.com. To find out about the gorilla project, go to arthelpingmountaingorillas.googlepages.com.