Method:
Ann works from photos. Whenever possible, she visits her subjects to take the photos. Not only does that allow her to get to know the animal better, but she's able to photograph a characteristic pose with good detail that will allow her to create an accurate illustration. Ann works in a variety of media to provide options that suit your pet's character, your taste and your budget. Scroll down for examples of the available styles and pricing.
If you're interested in commissioning a portrait but it's not possible for Ann to take the photos, she may be able to work from your photos. It's very important to provide the best photos possible in order for her to create an accurate drawing or painting. Click here to see a sample photo, the finished portrait, and to learn why good quality photos are necessary. You may download the photo guidelines document for more information on what Ann looks for when she's taking photos. Ann also wrote an article about pet photography that appeared in the Sacramento Pet Gazette, click here to read it.
If you already have professional photos of your pets, Ann will require the photographer's permission in writing in order for her to be able to use the photo(s) for reference.
Ann retains the copyright to her works; the client receives the original portrait, with no rights, and may not reproduce it in any manner without Ann's written permission.
_______________________________________________
Detailed, Realistic Portraits
Ann offers a number of options in this style. The medium used for the portrait depends on your pet's characteristics and your preference – Ann will discuss the options with you to determine which method will best capture your pet's likeness.
Scratchboard results in a drawing with plenty of texture & detail. These drawings may  be fully or partially colored.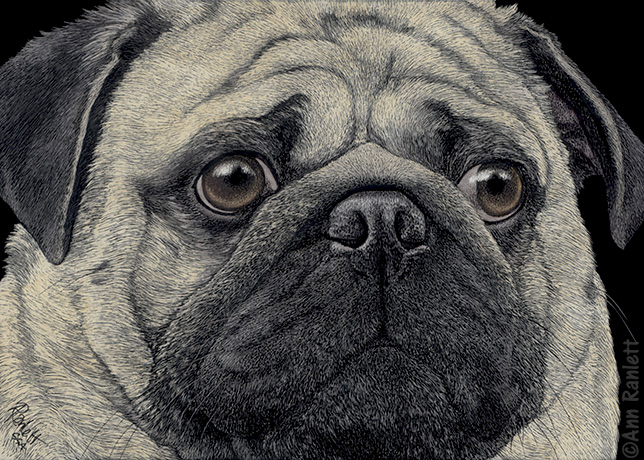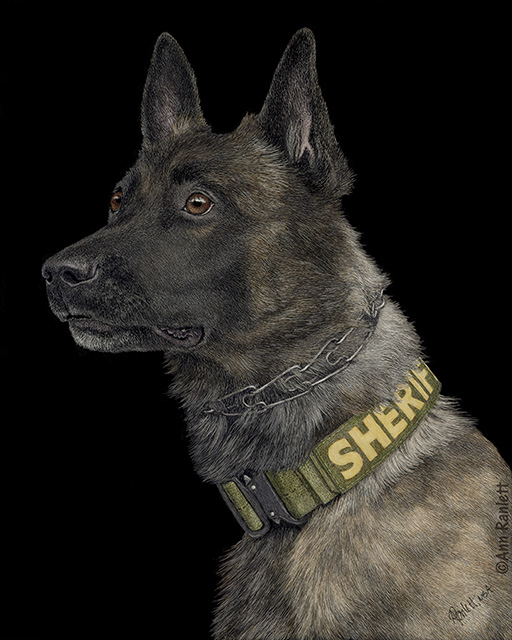 Mixed Media on Aquabord results in a full-color portrait with texture created by scratching the surface of the board. Ann uses ink, watercolor & color pencil for these portraits.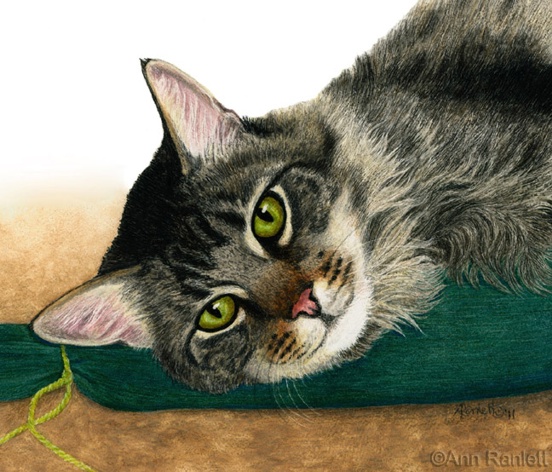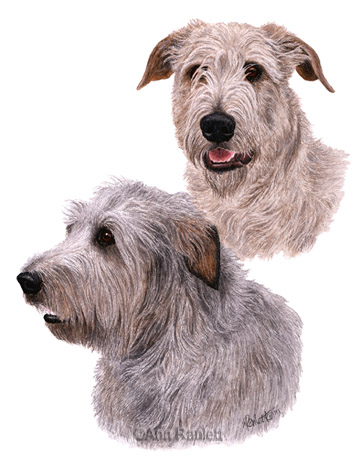 Ink/Ink Wash on Claybord results in a black, white & grey-toned drawing. Although the result is a "black & white" drawing, Ann is able to show the nuances of an animal's coloring and the final drawing has a nice warm tone and plenty of texture & detail. In some cases, she may tint select areas with watercolor.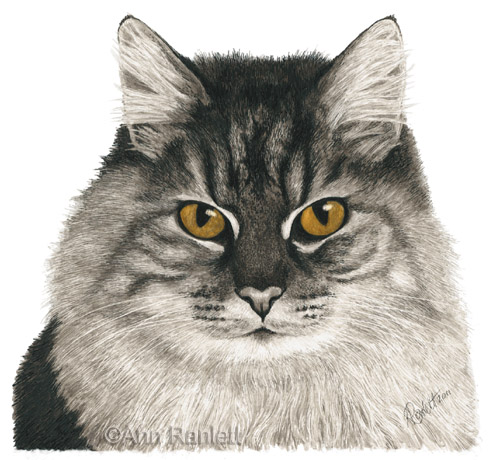 Graphite Pencil is another option.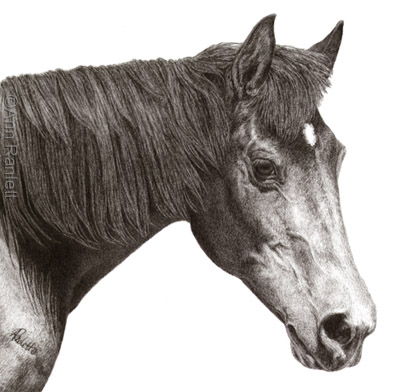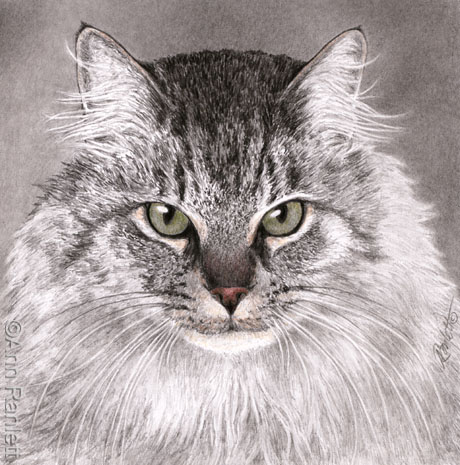 _______________________________________________
Miniatures
2″ x 2″ Scratchboard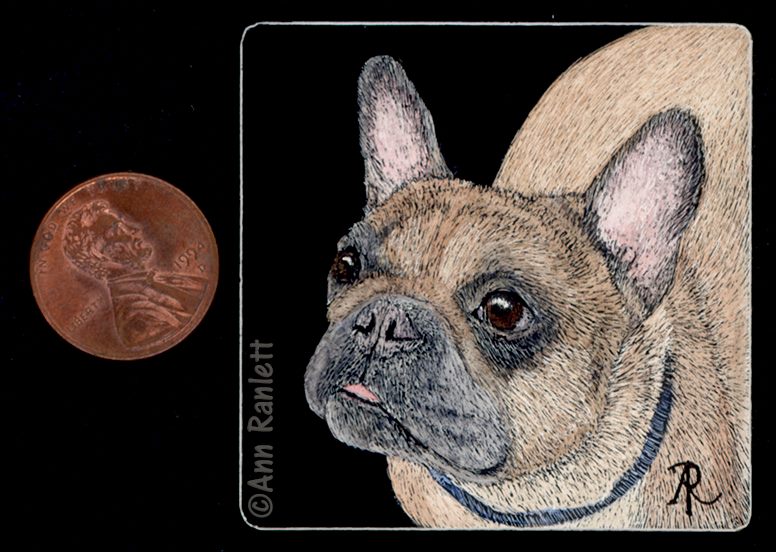 here
2.5″ x 3.5″ Pencil, on bristol – a heavyweight paper with a smooth finish. Ann may include a bit of color pencil for accent.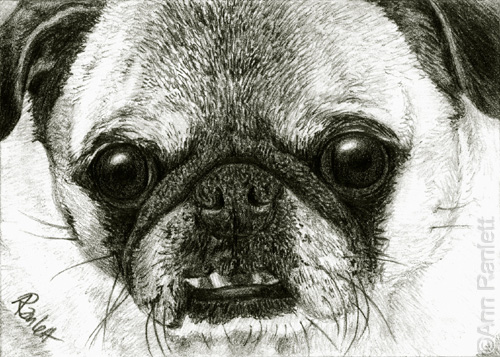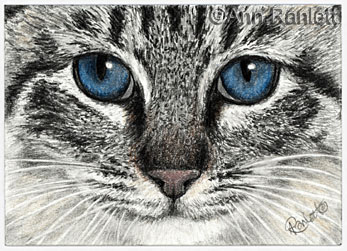 _______________________________________________
Art Board Paintings are a hybrid of realism and interpretation. Ann works in ink, watercolor and color pencil on cold-pressed watercolor paper that's been mounted to a 3/8″ thick board. These portraits will have a good level of detail, but with bright colors. Ann will work with you to determine the best color combinations for your pet and your taste. Wilga and Red are examples of this technique.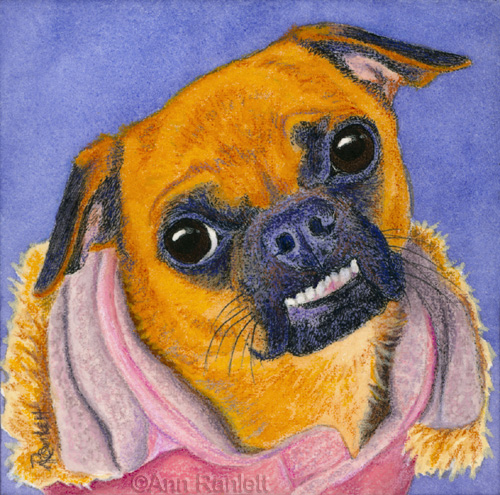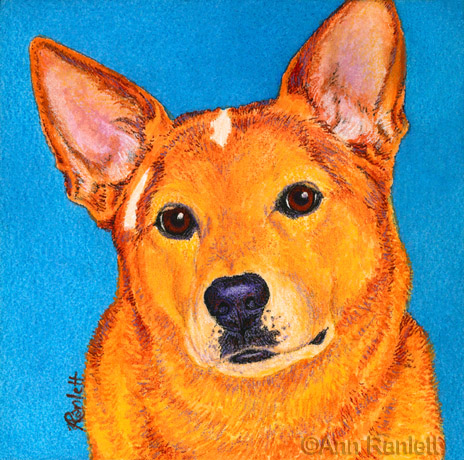 ** Limited Availability – Ann is working almost exclusively in scratchboard or pencil at this time.**
_______________________________________________
Interpretive Paintings with Petzazz
Ann creates these whimsical portraits  in watercolor on Yupo (a synthetic paper made of polypropylene). The slick, non-absorbent surface of the paper allows the colors to remain vibrant and to flow and blend differently than on traditional watercolor paper. She chooses a limited palette of bright colors and paints quickly. After the paint is dry, some color pencil may be added for emphasis. The nature of the Yupo doesn't allow for lots of detail or re-working – that's why it's perfect for use in these "interpretive" portraits. Although these portraits are looser and less detailed, they are realistically proportioned and will capture your pet's character. Ann will work with you to determine the best color palette to represent your pet.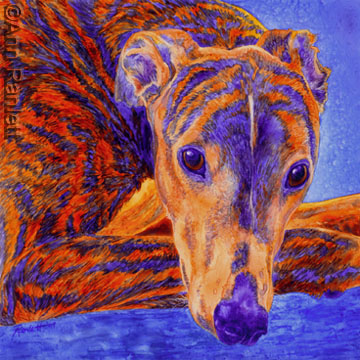 ** Limited Availability – Ann is working almost exclusively in scratchboard or pencil at this time.**
_______________________________________________
Pricing:
The prices listed below are the starting prices for a particular medium. Complexity of image, number of subjects, fur color, fur texture (or lack thereof), hardware (collar, bridle), etc., will incur a higher cost.
$450 for a 5″ x 7″ realistic piece (scratchboard, pencil, mixed media)
$110 for a 2.5″ x 3.5″ pencil miniature
$55 for a 2″ x 2″ scratchboard
$125 for a 4″x 4″ mixed media Art Board (limited availability)
$230 for a 5″ x 7″ Petzazz painting (limited availability)
Ann will be happy to discuss portrait options with you to determine the appropriate size and style and to work within your price range. Price quotes are valid for a limited time.
A non-refundable deposit of 30% is required on all portraits over $110. The balance is due upon delivery, although payments may be made along the way. If you are not completely satisfied with your portrait, contact Ann immediately, and return it within 5 days for a refund of the balance.
Ann generally does not charge an additional fee for taking photos of your pet(s) for a portrait, however, for portraits of $110 or less, she charges an additional $20. For clients outside the Sacramento or Auburn area, there may be an additional fee for travel time.
Sales tax will be charged on portraits sold in California. Shipping/handling/insurance
is extra for portraits that must be mailed. Prices are for unframed portraits – you receive the original portrait, ready for framing. All works are sealed with an appropriate fixative or varnish, depending on the medium.
Commissions are placed on a chronological waiting list with no guaranteed delivery date, as portraits are interspersed among Ann's other projects as she has time. She currently has a waiting list of portrait commissions; as of December 2020, there is a minimum wait of 6 months.
If you would like to discuss a portrait commission or if you have any questions, please contact Ann or call (916) 300-5774.
Save
Save
Save
Save
Save
Save
Save
Save
Save
Save