Ann teaches Scratchboard Workshops
Students of all experience levels are welcome, Ann tailors each workshop as needed. Scroll down for more information. She is also available to demonstrate her techniques at art events, art club meetings, etc.  Private workshops for individuals or groups are also an option – either at her studio or at your location. Contact Ann if you're interested in scheduling a private workshop or individual lessons.
---
2023 Workshop/Demo Schedule

Scratchboard Demos at High-Hand Gallery in Loomis CA, once a month on a Sunday, most months in 2023
Scratchboard Workshops:
September 9th. Please click the link for more information & to register.
October
Scratchboard Workshop at the Arizona-Sonora Desert Museum: Thursday, October 26th.
November
Scratchboard Demo: ongoing during Placer Artists Studios Tour, at Ann's Studio.
November 10th – 12th  and "Encore Weekend" November 17th – 19th. 10 – 5 each day. This event is free.
_____________________________________________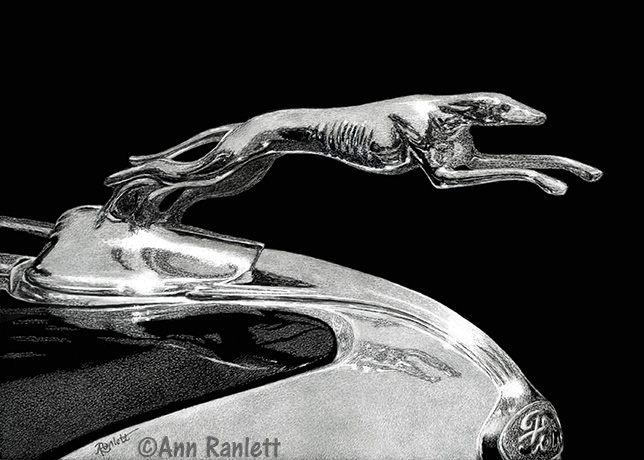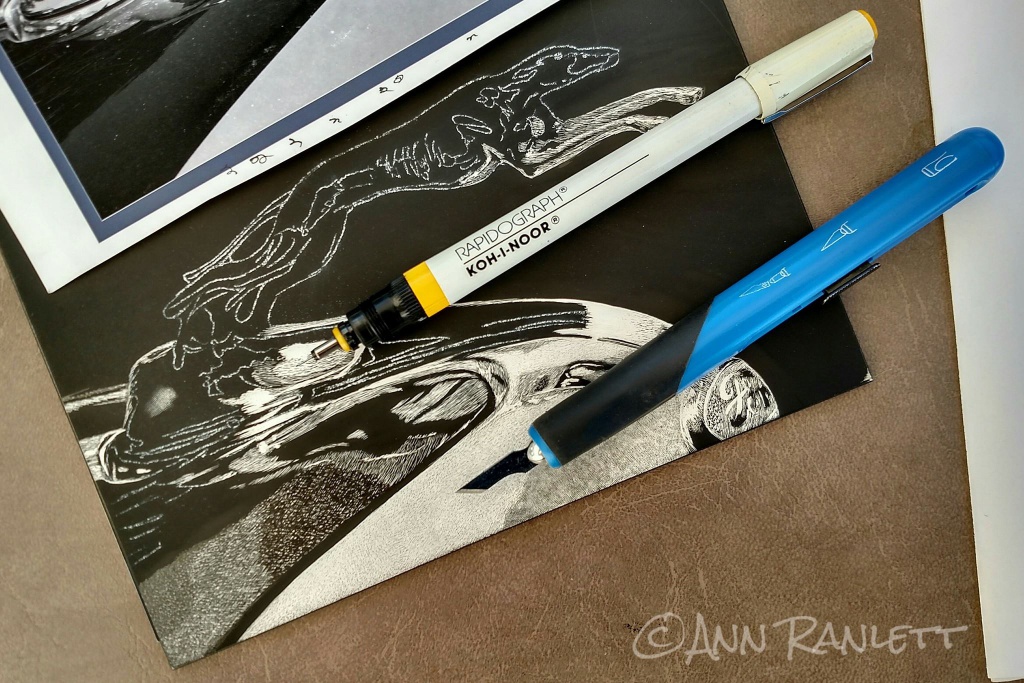 About the Scratchboard Workshops:
A one day workshop focusing on scratchboard techniques. Hours & prices vary, depending on venue. In this workshop, students learn the basic techniques for working on scratchboard, a unique and surprisingly forgiving surface. Ann's favorite subjects are animals, but students in her workshops create a drawing of a subject of their choice.
Ann is a Master member (MSA) of the International Society of Scratchboard Artists (ISSA). Her work has been accepted into all of the annual ISSA juried exhibitions to date and she was one of the featured presenters at the 2012 – 2014 and 2018 – 2019 workshops. In the Open Division: "Sleeping Patterns" received an "Award of Excellence" at the 2013 Exhibition, "Cathy's Burrito Bouquet" received an "Award of Excellence" at the 2014 Exhibition, and "K9 Ronin" received an "Award of Excellence" at the 2015 Exhibition. In the Master Division "Safety" received a "Silver Award" at the 2017 Exhibition, and "Let's Go!" received the Best in Show (Gold Award) at the 2018 Exhibition.
Videos of the ISSA workshop presentations are available through ISSA at a very reasonable cost.

_____________________________________________________
What attendees of Ann's workshops & classes have to say:
"I just watched the ISSA video of you demonstrating your scratchboard techniques. It was wonderful. I did some Claybord work several years ago and am just returning to scratchboard after a long break. Your technique is fascinating with the use of pens. You make it look so approachable and relaxed. Thank you for all the great teaching. It was extremely helpful. "
"As an instructor myself, it was a real pleasure to take such an enjoyable class from a well-informed and confident teacher. Thank you for all your encouragement and inspiration!"
"I thoroughly enjoyed myself and wanted to thank you again for everything that you did to make it so! I have taken a lot of different classes along the way in my life and would rank yours one of the best. You made it seem easy to teach, but I know it is not. It takes a lot of dedication and studying. You were very generous and calm. Plus I love your work and appreciate it even more."
"Thanks for a great demo! I loved the scratchboard class you taught at Rocklin Fine Arts afterwards. I'd never done any and wasn't even sure what, exactly, it was. The class was fun and informative; your work is stunning. I loved it and will definitely do more. I was surprised that getting a decent result was not that hard."

"Thank you so very much for coming to the office [for a private group workshop] and teaching us about scratchboard art.  I'm following your advice by taking a photo of the progress I've made and then taking subsequent photos as I progress. And, thank you for spending quality time with me on certain techniques."
"Thank you Ann, for such a nice workshop. Learned lots and and had a very enjoyable time."
"Class was overall great. Very relaxed, informative and very inspiring. Loved it."
"I learned a new and useful technique. Process is very forgiving and makes possible good-looking results."
"I really appreciate Ann's pacing of the class and her encouraging way with students at all levels."
"Take the class, it's fun!"
"Ann is a wonderful teacher!"
"A very fun and creative course."
"Ann provided a positive and encouraging class in a technical and subjective course. She shared lots of examples and excellent techniques. Great class!"
"This was a fun, upbeat class. Great examples, lots of technique sharing and positive encouragement made the class a real pleasure."
Save
Save
Save
Save
Save
Save
Save
Save
Save
Save
Save
Save
Save
Save
Save
Save
Save
Save
Save
Save
Save
Save
Save
Save
Save
Save
Save
Save
Save
Save
Save
Save
Save
Save
Save
Save