Original Pen & Ink Drawings on Real Ostrich Eggs
Ann has been drawing animals on ostrich eggs for over 20 years. At anywhere from 4 to  12 eggs per year, that adds up to over 250 eggs! She became involved in this unique craft when she worked at the Sacramento Zoo. Each year, Zoo staff commission Ann's illustrated ostrich eggs to be used as prizes at events and gifts for donors and staff.
Ann accepts private commissions for her ostrich egg art. If you are interested in ordering your own one-of-a-kind ostrich egg, please contact Ann for more information. Prices start at $125. See below, or visit Ann's Facebook album for examples.
Short videos of Ann inking an egg:
Meerkat in progress  ●  Hornbill in progress  ●  Hummingbird in progress
Giraffe in progress 1  ●  Giraffe in progress 2
_____________________________________________
Actress Betty White's has one of Ann's ostrich eggs!
Staff at the Sacramento Zoo commissioned a giraffe egg as a gift to Betty for her participation in a fund-raiser for the new giraffe exhibit.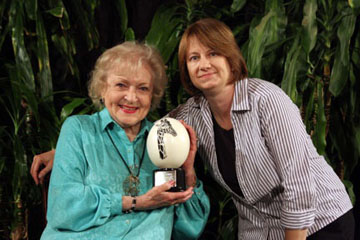 Click here for the rest of the story.
_____________________________________________
Although the eggs shown below have been sold, they will give you an idea of the variety of Ann's egg illustrations. Click on any of the the images below to see a larger image. Apologies for the quality of some of the images – ostrich eggs are difficult to photograph!





_____________________________________
Ann's egg art is featured in the book: "A Showcase of Decorated Eggs"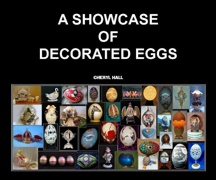 Click on the image to preview/purchase the book.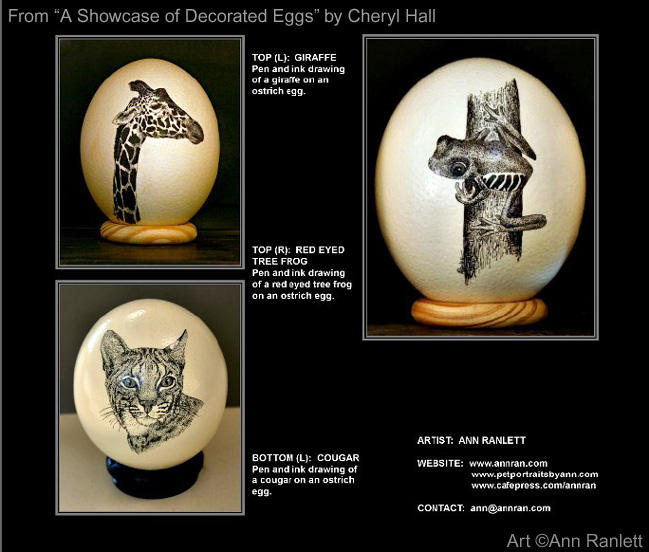 Ann's page in the book
Lower left is a Bobcat, not a Cougar as written.
Save
Save
Save
Save
Save
Save
Save
Save
Save