Links & Resources
International Society of Scratchboard Artists (ISSA)
ISSA Workshop Videos – order here
Scratchboard Artists' Group on Facebook
Scratchboard Forum on WetCanvas – Ann's user name is PaintDog
Ampersand Products – makers of Scratchbord™, Claybord™, other artists' panels, floater frames & more
Ann's Instagram – works in progress and short videos
Ann's blog post: Thoughts on Learning Scratchboard
Ann's Art Videos on Rumble in scratchboard and other media
Scratchboard videos on YouTube – search for "scratchboard demo"
Scratchboard videos from gatherings in Indianapolis (pre ISSA)
Scratchboard Books – instructional or just fun
______________________________________
Ann's Scratchboard Supplies/Tools
Note that many links below are affiliate links, intended as a guide . . . feel free to shop around.
___________________________________________
Technique Materials

Please respect Ann's copyrights.
Feel free to share the links to these materials, but do not copy, print, post or reproduce the content in any manner without Ann's consent.
K9 Ronin Process – Display Board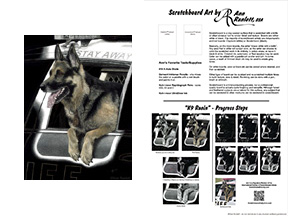 Materials from Ann's Demos at ISSA Workshops
Videos from the 2012 – 2019 ISSA Workshops are available here and include Ann's videos from years in which she was a presenter.
2014
Discussion of cropping and composition, PDF document. Password required to open: arppt
2012
Click on either image to download a PDF file.
| | |
| --- | --- |
| | |
| Mr. Mischief | Magpie |
Save
Save
Save
Save
Save
Save
Save
Save
Save
Save
Save
Save