My latest portrait of Merlin is one of many portraits I've done for this particular friend and client. Let's see. . . if I recall correctly, I've "portraitized" these critters for her: 2 dogs, 2 cats (not including Merlin), 2 horses and a cockatiel. Some have been realistic renderings in ink on scratchboard, others have been colorful "Petzazz" paintings. This portrait of Merlin is the first one I've done for her in pencil and we're both very happy with the result!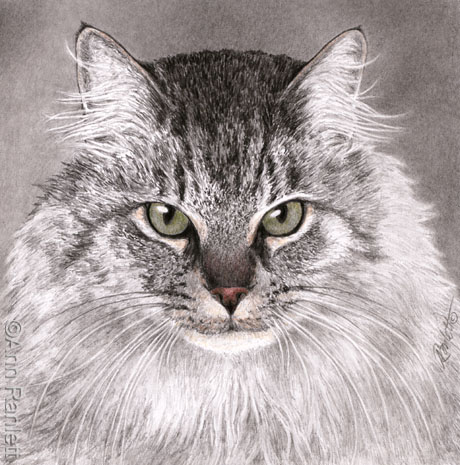 5″ x 5″, Graphite Pencil & Color Pencil on Bristol
I started by taking a number of photos of Merlin who was surprisingly willing to pose for me. Cats are often tough to photograph. With a dog, if there's a treat or toy involved, they're generally pretty happy to focus on that while I take photos. Cats are typically much more difficult to engage and many of them would rather run away than pose for me. Merlin was sitting outside the patio door, and at first, I left the glass door shut and took photos through it. But he seemed pretty content, so we opened the door and he stayed put while I got some nice, unobstructed photos.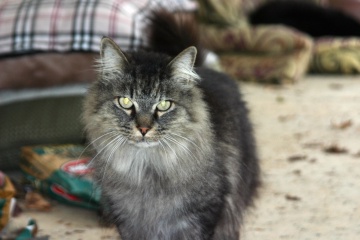 This is the photo I selected for reference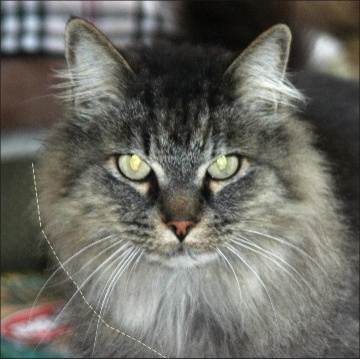 I rotated the photo so his eyes were level and cropped it to 5″ x 5″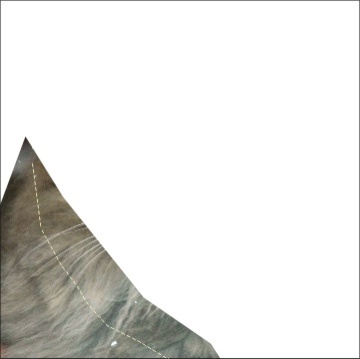 I wanted to fill in the lower left with fur, so I found that in another photo which I cropped and scaled to the same size. I put the same white line in both photos as a guide.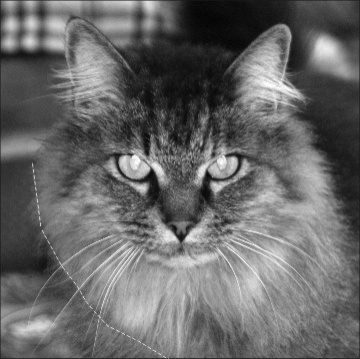 A greyscale photo helps me with the tones for the graphite pencil work
I did all of the graphite pencil work first (my favorite pencils are Faber-Castell 9000s), then sprayed the portrait with workable fixative. That keeps the graphite from smudging and blending with the color pencil I add over the top of the graphite. I didn't use much color pencil; I wanted it to be subtle. I colored his eyes, nose, muzzle and the edges of his ears. And if you're wondering how I did the white whiskers, I used a stylus to "draw" them in before I started the pencil work. I press the stylus into the paper to create an indented line that stays white if I'm careful when I draw over that area. It's a nifty trick I learned from an on-line tutorial.

Drawing detail