Saturday, November 18th, 11 am – 4:30 pm, Ann's Studio in Newcastle, CA

Sometimes called "the art of taking away", scratchboard is a medium that allows for amazing detail, but is also surprisingly forgiving and versatile. In this workshop, you'll learn the basic techniques for working on scratchboard. Knives will be used in class, but any abrasive object can be used to remove the black ink from a board to reveal the white coating beneath. Ink can be added and re-scratched, allowing for softness and a range of tones to enhance the detail.
Ann's favorite subjects are animals, but students in this workshop will create a drawing of a subject of their own choice. While fur and feathers tend to be easiest for beginners, any subject can be rendered in scratchboard. Ann will work with each student to determine the best ways to tackle the photos they provide.
Open to all levels; new and past students welcome. Supplies included. You must provide your own reference photo(s). Instructions and location map will be sent after registration.
$85 per person, must pre-pay (to Ann)
Please register/pay in advance, as class size is limited to 4 students
Pay via PayPal
Or mail a check for $85, made out to Ann Ranlett, to PO Box 960, Newcastle CA 95658. Checks must be received prior to workshop. Please contact Ann in advance to let her know you're paying by check.

If you'd prefer to pay Ann directly by credit card, please call prior to the workshop to make arrangements: 916.300.5774
________________________
Refund policy:
Full refund for cancellation made no later than 10 days prior to workshop.
Cancellation within 10 days of the workshop will receive full credit for a future workshop or a 50% refund.
If you have any questions, please contact annranlett [at] gmail.com or call 916.300.5774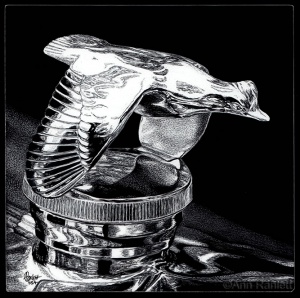 Ann is a Master member (MSA) of the International Society of Scratchboard Artists (ISSA). Her work has been accepted into all of the annual ISSA juried exhibitions to date and she was one of the featured presenters at the 2012 – 2014 workshops. "Sleeping Patterns" received an "Award of Excellence" at the 2013 Exhibition, "Cathy's Burrito Bouquet" received an "Award of Excellence" at the 2014 Exhibition, "K9 Ronin" received an "Award of Excellence" at the 2015 Exhibition, and "Safety" received a "Silver Award" in the Master's division at the 2017 Exhibition.
Videos of the 2012, 2013 & 2014 presentations are available through ISSA at a very reasonable cost.
Save
Save
Save