Scratchboard Workshop
Saturday, September 20th, in Sacramento
10 am - 4 pm

Spaces are still available! Don't let the medium intimidate you - it's surprisingly forgiving and versatile, and you can chose any subject that interests you.

Learn the basics in this 6-hour workshop at University Art in Midtown Sacramento. Supplies not included; they can be purchased at a 20% discount from University Art.

Pre-registration/pre-payment is required.
Click here for complete details and to register.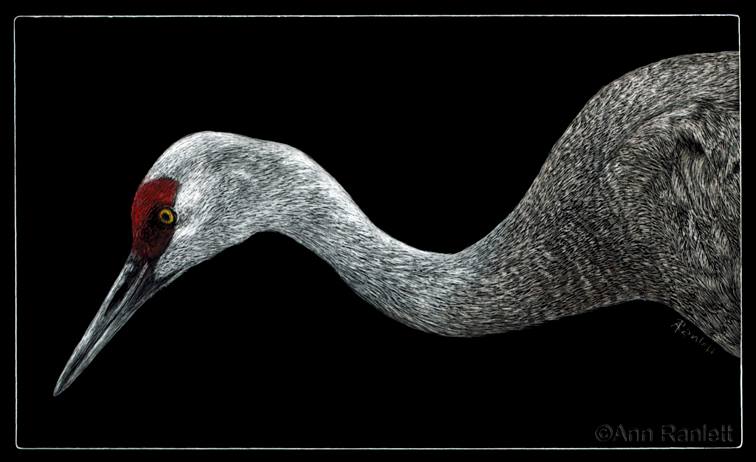 Sandhill Crane - scratchboard, tinted with ink
---
Art Demos in Newcastle
Sunday, September 28th, 12 - 5 pm

As a lead-up to our 3rd annual Newcastle Art Studios Tour, a number of the Tour artists will be giving demos at Artlandish Studios, 21 Taylor Road. Come by to see how we do what we do! I'll be on hand to demo scratchboard, other artists will demo drawing, painting and felting techniques.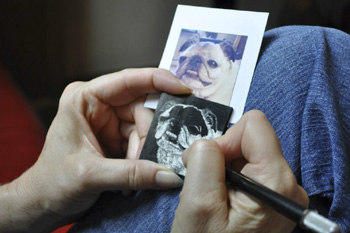 Working on a mini drawing of a pug
Photo courtesy of Jonathan Webb
---
Auburn Art Walk
Thursday, October 9th
6 - 9 pm

Mark your calendars for "Sibling Hearts" at Tango Frozen Yogurt in downtown Auburn. I'll send out a separate e-blast when I have more art images to share. The teaser story is that PY Simpson (my brother) and I are putting together a show featuring his ceramic art and my scratchboard drawings of his sculptures. Take a sneak peek of the art here.
---
Newcastle Art Studios Tour
Saturday & Sunday, October 11th & 12th
10 am - 5 pm each day
Free!

www.newcastleart.com

Please join me and 16 other artists at 8 locations for our third annual tour of Newcastle area artists' studios. My studio is #1 on the map.

We'll also have an artist's reception and preview show of our work at Lone Buffalo Vineyards on Friday, October 3rd from 4 - 7 pm.

"Show Goat" - scratchboard, tinted with ink
a recently finished piece