First Annual Open Studio Garage Art Thing
Saturday, September 25th, 10am - 5pm
in Newcastle, CA

I've participated in the annual Autumn Art Studios Tour for at least ten years, but I decided to try something different this year. I enjoy talking to people about my art, subjects and techniques and I didn't want to lose that opportunity, so I'm having a one-day art show this month.

I don't have an official studio that I can open to the public, so I'll set out my wares in our spacious garage, which is what I've done for past Studios Tours.
.
Here's what you'll find if you can come out to visit:
- original art - paintings and drawings of various sizes
- earrings - laminated paper featuring my colorful critter art
- signed reproduction prints and photos - matted and ready to frame
- note cards - a huge assortment
- art in progress/demos

And I'll have hourly raffles for 15% off any in-stock items purchased on that day. The first raffle drawing will be at 10:45.
The postcard with address is below. Click on either image to see a larger version.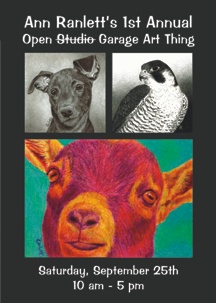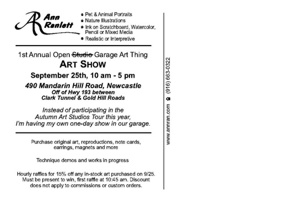 ---
Upcoming Art Classes
Watercolor on Yupo or Ink on Scratchboard
I'm teaching a four-hour Watercolor on Yupo Workshop through Placer School for Adults on Saturday, October 9th from 9 am - 1 pm. For more information and a link to register, please visit the Class Info page of my web site.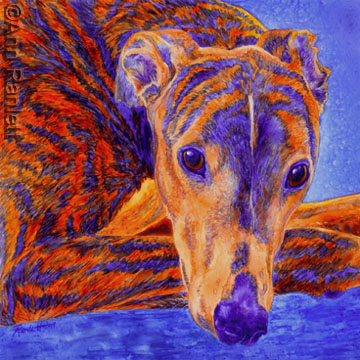 I'm also planning an Ink on Scratchboard Workshop in October. A group of gals has requested the class so I'm waiting for them to get back to me with a date. But there will be additional spaces available for this workshop - if you're interested, please let me know and I'll get back to you with details.
---
Puppies!!!
Photos of Adorable Pit Bull Terrier Pups
These are just too cute not to share! I recently had the pleasure of visiting a litter of pit bull terrier puppies that are being cared for by a rescue facility near my home. I spent an hour and a half photographing, cuddling and kissing the adorable 7-week-old pups. These puppies are going to be wonderful dogs and they couldn't have a better team on their side than Lynn Howe and her assistants. I was very impressed by the way these pups are being raised and socialized. And no, I'm not taking one; I love puppies, but I I also know how much work they are!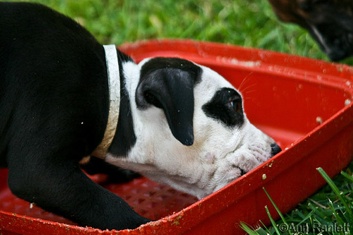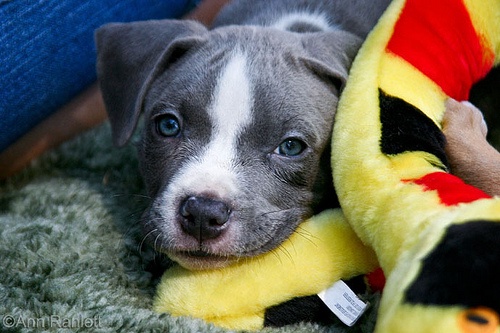 See more puppy photos in my Flickr Album.
---
2011 Calendars & Custom Invitations
Available on Zazzle

If you need a 12-month calendar for 2011, take a look at the two calendars I have on Zazzle. One features my "Paintings With Petzazz" art and the other has a selection of my animal photographs.
| | |
| --- | --- |
| "Petzazz" Calendar | Photo Calendar |
| | |
| | |
You'll also find customizable party invitations for a variety of occasions. The invitations feature my art or photographs. You can edit the text to suit your needs.
---