An Ostrich Egg for Betty White
She'll be at the Sacramento Zoo on November 5th

I've been drawing animals in pen & ink on ostrich eggs for many years, since I worked at the Sacramento Zoo as the Volunteer/Events Coordinator in the 80's. These eggs are presented as awards at Zoo events, offered as silent auction items and gifted to major Zoo donors and supporters. I'm very fortunate to have maintained a relationship with the Zoo staff and they commission at least a dozen eggs from me each year. By last count, that's well over 200 eggs that I've "inked".
I was honored when my Zoo friends commissioned an egg as a gift for actress and animal welfare advocate Betty White. She'll be attending a reception at the Zoo on November 5th to help raise funds for the new "Tall Wonders" giraffe habitat expansion project. Of course, I was asked to draw a giraffe on the egg. I've also been invited to attend the reception and I hope to have my photo taken with Betty and her egg!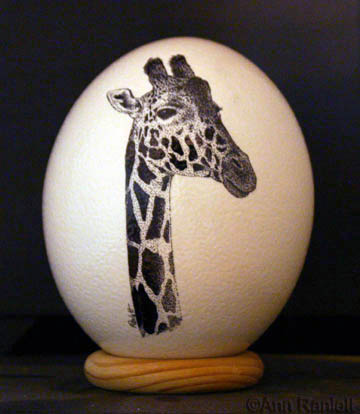 Betty White's ostrich egg
I accept commissions for custom eggs and you can see many samples on this page of my web site.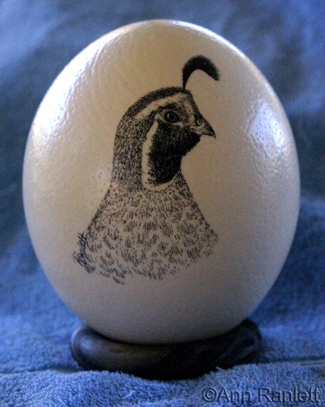 This egg with a California Quail is currently available in my Etsy Shop
click on the image to see the listing
---
Autumn Art Studios Tour
Reception October 8th, Tour November 13th - 16th
The 16th annual Autumn Art Studios Tour is right around the corner. I'll be participating again as I have for many years. It's a great event - for just $10 art lovers have the opportunity to spend three days driving through the landscapes of west Placer County and visiting artists. Find out what we do, how we do it and why we love doing it! Many of us offer demonstrations of our techniques and of course you can purchase art in all flavors directly from us. The Tour is sponsored by PlacerArts and tickets can be ordered from their web site.

The Artists' Reception for the Tour is on Thursday, October 8th, 6 - 9 pm and it's free! Along with the reception is a great show featuring a piece of art from nearly every artist on the Tour. This "preview show" is a great way to plan your route if you are going to take in the Tour. The show runs through the weekend of the Tour and ends November 17th. I'll have this pencil drawing of a greyhound pup in the show:

"Got Room to Run?" - 10-week old greyhound pup, 4" x 4" pencil on paper
click on the image to find out more about the drawing
---
Watercolor on Yupo Workshops
Either October 17th or 24th
This workshop is a one day, five hour class focusing on the technique of working with watercolor on Yupo. One workshop is offered through Placer School for Adults, the other is offered through Sierra College Community Education. Visit the class info page of my web site for details: times, prices, supply list and links to sign up.

Yupo is a synthetic paper that offers a unique working surface - much different than traditional watercolor paper. I really enjoy using Yupo, it's bright white, slick and non-absorbent. The water in the paint evaporates instead of being absorbed by the paper, resulting in vibrant color and wonderful watermarks and patterns left as the paint dries. Lifting paint is easy, but correcting mistakes is a challenge. My method with Yupo is to plan as best I can and then let the paper and paint do what they want. If you're game for something different, sign up for one of these workshops!

"Julep" - Jack Russell Terrier pup, 4" x 4" Watercolor on Yupo
one of my earliest Yupo paintings and it's still available
click on the image to visit my Etsy Shop and find out more
---
"Pinto Filly" Wins Second Place
At the Draft Horse Classic's "Art at the Classic" Show

I found out over the weekend (and I'm honored) that my ink on scratchboard drawing won a second place ribbon in its class at the art show. You can see the original drawing at my place during the Autumn Art Studios Tour.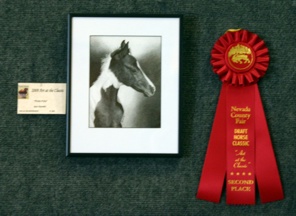 "Pinto Filly" - Scratchboard Drawing at the "Art at the Classic"

---