New Zazzle Shop
Featuring my non-animal photography

My main Zazzle shop features my animal art and photography. After a recent trip to Bodie ghost town, I decided I wanted to make photos from that trip available on cards, postage, magnets, etc. Photos of old, rusty cars and ramshackle buildings weren't a good fit for the critter art shop, so I set up a new shop. I've also added some photos of vintage cars and sunsets. There's much more I'd like to add, but it's a start.
| | |
| --- | --- |
| | |
| Wagon Wheel in Bodie | '57 Chevy Postage |
---
Holiday Gift Items
In my CafePress and Zazzle shops

Zazzle and CafePress are "print on demand (POD)" sites. Here's how POD sites work: I set up my shop(s), upload my art or photo images, select the merchandise I'd like to offer and add the images to those items. The merchandise is available to the public for purchase directly from the site in any quanitity desired. As I do every year, I make some holiday & Christmas themed items available in my shops. You'll find greeting cards, magnets, mugs and more.
"Home for the Holidays" Card
Customize the greeting!

Snowmen Mug

Of course, any of the items in the shops might make a great gift for someone who loves a particular type of animal or specific breed. It's time intensive to make every type of merchandise available for every image (in each shop), so you'll see that some images are featured on more products than others. If there's something you'd like that you don't see currently available, please don't hesitate to contact me!

You can find all the locations where I sell my art on-line at my shopping portal: PetArtGiftsByAnn.com and if you're in the Sacramento, CA region, you can find my art at the Auburn Old Town Gallery.
---
Thank You!
My September Open Studio Garage Art Show was a success - thank you to those who were able to stop by. A number of my "regulars" came to visit and some of my newer friends & clients were here as well, including a few folks who I had recently met through Facebook. Some dogs stopped by also - in attendance with their humans. It's always fun to have animal guests. I plan to do the same next year and will probably include Sunday as well.
As the year comes to an end and we look toward 2011, I'd like to take this opportunity to thank you all, from my newest customers to my established clients, friends and family for your business and support. Without you, I wouldn't be able to maintain a career doing what I love so much - creating animal art.

I wish you a wonderful holiday season, a Merry Christmas
and a peaceful 2011!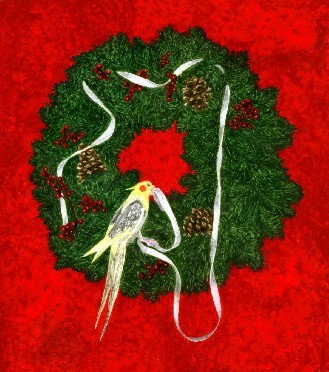 ---