Featured Artist for May
At the Auburn Old Town Gallery

For 2010, the Auburn Old Town Gallery (in Auburn, CA) is featuring three artists each month. I'm one of the three featured artists for May, along with Mary Prantil (fiber art) and Anita Posey Lowe (pottery).


| | |
| --- | --- |
| | |
| "This Little Piggy" | "Purple Pug" |
Featured artists are asked to bring in some new art for their display space, so I've come up with 4 new paintings on the ArtBoards Cold Pressed Watercolor Panel that I've been raving about. For these paintings, I used ink (a black Micron pen), watercolor and color pencil. Two of the four are the pig and pug above. The only ink-work on the pig is a little bit on his eyes, the pug has quite a bit.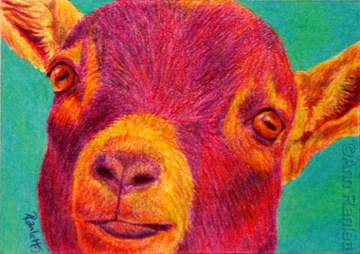 "Hey Kid"
I've also put up a few framed ACEOs, that aren't exactly new, but they're new to the gallery. "Hey Kid", a vibrant color pencil drawing of a pygmy goat, is one of them. ACEO stands for Art Cards, Originals & Editions and they're always 2.5" x 3.5". I've been creating ACEOs since I discovered them in late 2006. Click here to find out more and see plenty of samples of these mini artworks.
---
Texas Birding
A Summary of Our April Trip
My husband and I are birders (birdwatchers) and in April, we decided it was time to return to the Texas coast to check out the migrant action. At this time of year, birds are migrating from the Yucatan Peninsula across the gulf and up the east coast to their summer nesting locations. As they cross the gulf, they'll stop along the Texas coast to rest and refuel. Warbler species (a big draw to this part of Texas during migration) come in to the forested areas and provide some amazing birding.
Black-throated Green Warbler
We'd been to coastal Texas a few times in the past and it was always enjoyable. This was a 6-day trip, but days 1 & 6 were travel days, so we had 4 days to take in the bird life. In those 4 days, we saw 158 bird species, 26 of which were warbler species. You can read the full account on my blog - I made four posts about our trip, starting with this one. There are photos on my blog, and additional ones on Flickr.
---
Custom Business Cards
Your Text, My Art or Photos

I'm now offering custom business cards through my Zazzle shop. The cards feature my art or photographs, but you can edit the text to suit your needs - with the option to change the font and text color as well. I've ordered plenty of the cards myself and they're nice - with a good weight and a slightly shiny finish - almost matte, but not quite. I have a selection of about 20 card options, but if there's art or a photo that's not currently available, please contact me to make a request.
Cat Art Template

Pomeranian Photo Template

The card front is full color, the back is a greyscale version of the image
---

On-Line Shop Portal
PetArtGiftsByAnn.com

If you're in my neck of the woods in the Sacramento/Auburn region of CA, you can stop by the Auburn Old Town Gallery to see and purchase my work. But if not, you can still find my work at plenty of on-line venues, and you'll also find items I don't have at the Gallery. Some of the shops feature items I make myself - such as originals & reproduction prints, note cards and earrings; others are "print on demand (POD)" sites where you can purchase merchandise featuring my art (magnets, coffee mugs, tote bags, postage, etc). I recently revamped my on-line shop portal to include widgets showing samples of some of the items you'll find at the assorted venues. That portal is PetArtGiftsByAnn.com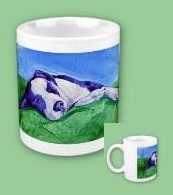 Just one of the many POD items available in my Zazzle Shop


And, of course, you can always contact me with requests - depending on the art, I'm able to put an image on most any item.

---