Mural Mosaic Books Now Available
"Le Cadeau du Cheval" - Including my painting of Clever Hans

In 2008, I was accepted to participate in the creation of a large mural with the image of a galloping horse. Created by Mural Mosaic, this mural "Le Cadeau du Cheval (The Horse Gift)", was a group effort. 174 artists painted 238 individual 16" x 16" panels in an equine theme. When assembled into the 18' x 22' mural, the individual panels combined to create one very large horse. My panel is #153, I painted Clever Hans, a horse that solved math problems. To find out more about my process to create this painting, please visit my blog.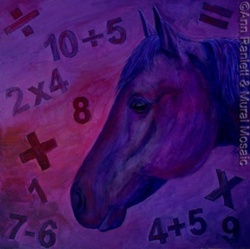 The Cadeau mural is now available as a 5.25" x 4.75" book. Each page represents a panel of the mural. You can even cut out the pages and create your own mural; assembled, it's roughly the size of a real horse!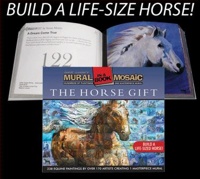 The books are available for 24.99 (+ $5 s/h) directly from Mural Mosaic
Signed Books Also Available!




If you're in the US and would like a copy signed by me, you can order directly from me for the same price. I'll cover the sales tax for CA orders. Please allow time for me to order your book (they ship from Canada) and then ship out to you. I only have a couple of books on hand, but I'll order more based on demand.

If you're local (in the Sacramento, Roseville, Auburn CA area) you can make arrangements to pick up your book from me and save on shipping.
---
New Scratchboard Art
Orangutan & Pygmy Goat
My two latest scratchboard drawings are of an orangutan and a young pygmy goat.

This guy is Urban, a charismatic male Sumatran orangutan who lived 28 years at the Sacramento Zoo. Sadly, he passed away in February of this year. You can read more about him on my blog.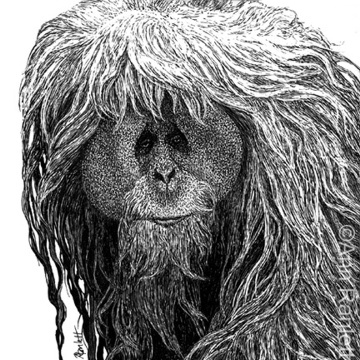 "Urban" - 4" x 4" Scratchboard Drawing

The goat was at a pygmy goat show in Auburn a couple of years ago. I took many photos that day and when I needed a suitable subject for a mini scratchboard drawing, I thought a little goat would be perfect.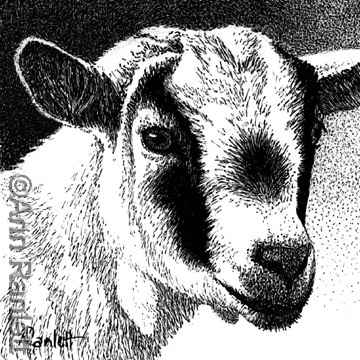 "Pygmy Goat" - 2.5" x 2.5" Scratchboard Drawing
At the moment, both drawings are available. The goat is currently at the Auburn Old Town Gallery and is $60 (framed to 8" x 8"). I'm in the process of framing the Urban drawing, it will also be available at the Gallery for $125 (framed to 9" x 9").
I've made note cards of Urban and the pygmy goat. They come in packs of five, but you can mix and match to make up your own custom pack of any five cards available in my Bonanzle Booth - there are plenty of images to choose from. Click on the coupon below to go shopping.
---