Introduction to Ink on Scratchboard
Saturday, February 26th, 1 - 4 pm
in Penryn, CA

I realize it's short notice for this class, but it's been a busy couple of months and I've had a hard time finding time to put together a newsletter. I'm trying out a new venue for one of my classes; my friends at A Chance for Bliss Animal Sanctuary (no longer in operation) are hosting this 3 hour workshop.
In this class you'll learn the basics of working in ink on scratchboard, a unique and forgiving surface. Contrast, tone, texture, composition, use of negative space, and of course, how to apply the ink and scratch with the knife will be discussed.
Drawing skills are helpful but not required. I'll provide a reference photo of one of A Chance for Bliss' boston terriers – a perfect subject for scratchboard work. Students will learn how to transfer the photo to the scratchboard surface.

Minimum donation $35. Materials will be supplied, $10 materials fee due in class.
NOTE: This class is taught indoors at the Sanctuary where there are many dogs. If you're allergic to dogs, this is not the class for you.
| | |
| --- | --- |
| | This is our subject for the workshop. |
These are samples of my scratchboard work on the surface we'll be using in class - Ampersand's Claybord
---
Illustration Project
Animal Drawings for Educational Signage

Prior to becoming a full-time artist, I worked for Foothill Associates, a consulting & planning firm in Rocklin, CA. In the latter half of last year, Foothill staff contacted me to see if I'd be interested in being part of the team working on an interpretive (educational) signage project for the Bureau of Land Management's Curtz Lake site in Alpine County, CA. I agreed and my task was to draw a variety of birds and mammals for three of the signs. I used ink and color pencil for the thirteen illustrations. The project is nearing completion and once the final signs have been approved, I'll be able to show them. For now, I'll share a couple of the completed illustrations. Click on any image for a larger version.
| | | |
| --- | --- | --- |
| | She has no hooves because there's a footer at the bottom of the sign. | |
| Great-horned Owl | Mule Deer | White-headed Woodpecker |
---
MOO Merchandise
Stickers & Mini Business Cards

I have no idea what "MOO" stands for, but it's a creative printing company that I discovered last year. What I like about them is that it's possible to purchase a pack of business cards (or other items) where each card in the pack has a different image, instead of having to get a large quantity of exactly the same image. I print my own business cards which allows me to print up a sheet whenever I have a new image to share, but it's nice that MOO has these slick little mini business cards and small stickers.
MOO Mini Business Cards - 100 cards per pack
(you'll get multiples of the same card if there are less than 100 images)




MOO Stickers - 90 stickers per book
(the images repeat unless you have 90 unique images)
If you're interested in a set of mini business cards or stickers with an assortment of your "AnnRan" favorites, please let me know and I'd be happy to provide a price quote and set those up for you.
And remember, you can always do your own customization of a variety of items featuring my art in my Zazzle shop. The most recent additions are iPhone and iPad cases. Add your own text and/or change the background color. I've just started adding those to the shop, so the selection isn't huge yet, but I'm always happy to create a new product with an image of your choosing - all you have to do is ask!
---
Riding Dozer
Random Fun Stuff - Yes, You CAN Ride a Steer
I guess there's a bit of a cow theme going on here . . .
My friend Kimberly of Howdy Moo to You has two riding steers. This past week, I had the opportunity to hop aboard Dozer, an Irish Dexter steer. It was a unique experience and I'll be doing it again! More details and video in this blog post.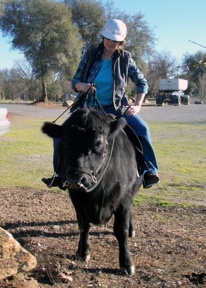 ---
Stay Tuned!
More Projects in the Works - Details in Future Newsletters
FieldHaven Feline Rescue
My friend Sandy and I are just starting on a decoration project for two of the "cat suites" in FieldHaven's new shelter building. We'll take photos of the progress.
---