A New Painting Surface
Art Boards with Watercolor Paper

In 2008, I discovered a new painting surface - Art Boards, specifically their Cold Pressed Watercolor Panel. Another member of the Auburn Old Town Gallery had used them with great results and I thought I'd give them a try. I'm always looking for new ways to create art and pet portraits and these looked promising. ArtBoards are a natural fiber (wood) panel with various painting surfaces adhered to the front. The watercolor panels have 156-lb Arches paper mounted on a 3/8" thick board. The board has a keyhole back for hanging.



My first paintings on the new surface were these goats on 4" x 4" boards. I used ink (a black Micron pen), watercolor and color pencil. The surface worked well for all three mediums and I was very happy with the result. I decided to skew the color palette a bit and use orange and purple for the goats. I sprayed the finished paintings with Krylon UV resistant spray. I also painted the edges with a matching solid color of watercolor so the wood wouldn't stand out.

When one of my pet portrait clients saw these at the '08 Autumn Art Studios Tour, she wondered about having new portraits of her dogs done on this surface. I was glad she asked because I ended up with three more examples of what I can do with this surface.

I'm now offering this style of portrait as an option for clients. They fall somewhere in between a looser, super brightly colored Petzazz portrait and a realistic, highly detailed portrait. As I did with the goats, I use a vibrant palette and I'm not worried about lots of detail. To find out about all my pet portrait options and pricing, please visit this page of my web site. And yes, I'm still much farther behind on my commissions than I'd like to be, but have made a vow to try to get a handle on portraits this year so I'm only six months behind instead of a year or more. Thank you to all my wonderful, patient clients!
---
Watercolor on Yupo Workshops
Two Workshops Scheduled in Auburn, CA
Either March 20 or April 17

The workshops are one day classes focusing on techniques in working with watercolor on Yupo. One workshop is offered through Placer School for Adults, the other is offered through Sierra College Community Education. Visit the class info page of my web site for details: times, prices, supply list and links to sign up.

Yupo is a synthetic paper that offers a unique working surface - much different than traditional watercolor paper. I really enjoy using Yupo, it's bright white, slick and non-absorbent. The water in the paint evaporates instead of being absorbed by the paper, resulting in vibrant color and wonderful watermarks and patterns left as the paint dries. Lifting paint is easy, but correcting mistakes is a challenge. My method with Yupo is to plan as best I can and then let the paper and paint do what they want. If you're game for something different, sign up for one of these workshops!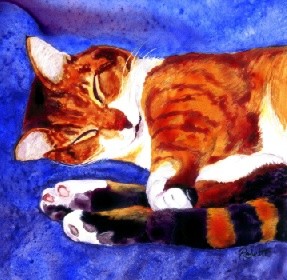 "Tigger" - Napping Tabby, 6" x 6", Watercolor on Yupo
Commissioned Portrait
---
My Crazy Cell Phone
"Llamatized"!

I'm so happy with how it turned out that I wanted to share my recently customized cell phone - it's now a bright yellow and green mosaic of "Llemon-Llime Llama".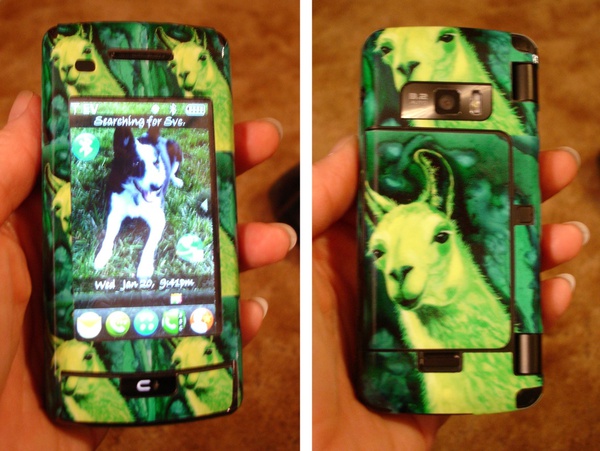 I won't bore you with the details here, but the product, a vinyl decal, is well made and it was fairly easy to apply. If you're interested, you can find out more on my blog post.
---