Colfax Art Walk
Friday, September 14th, 3 - 8 pm
If you're in the Colfax, CA area, please join me at the Art Walk opening reception. My gracious host is Pam Firpo, owner and groomer at the Doggie Depot at 9 Depot Street, #1. See some new "Paintings with Petzazz" art, including a cobalt blue German Shepherd ("True Blue"), a Chihuahua and a Border Collie. Also a painting of Bandit, the shop cat.and will be demonstrating my watercolor on Yupo technique. The show will remain at Doggie Depot through October 10th.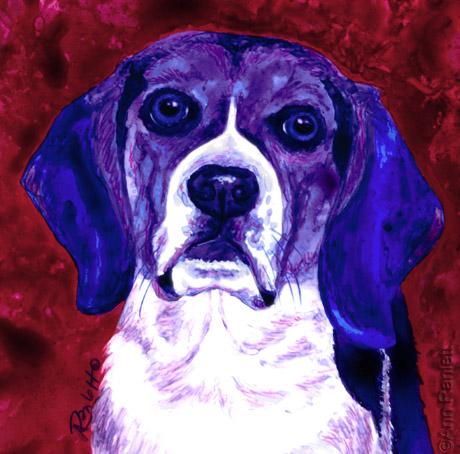 "Blue", a beagle painting, will be at the Art Walk
---
"Art at the Classic"
At the Draft Horse Classic, Sept. 20 - 23 in Grass Valley, CA

I'm pleased to announce that two of my works have been accepted into the the annual juried equine art show at the Draft Horse Classic. "Art at the Classic" features equine and western themed art from around the country and the quality of the entries is top notch.
"Baby Face"
Scratchboard Drawing

"Taking a Break"
Digitally Altered Photograph
---

Fall Open Studio
Saturday & Sunday, October 13 & 14

Now that I have permanent studio space, I'll have two Open Studio events each year - one on Mother's Day weekend and one in the fall. For this fall event, I'm working with eleven other local artists to be part of a free Newcastle Studios Tour. I'm not quite finished with our tour web site, but it's live and should be up to date soon. If you're a "local" on my e-mail list, look for an official invitation in a few weeks.


---
A Meeting of the Minds
Scratchboard Artists' Event

In July, I joined about 30 other scratchboard artists in Santa Rosa, CA for the first annual exhibit, meeting & workshops of the International Society of Scratchboard Artists. It was amazing, and I'm not exaggerating. I had met only two of these artists before and scratchboard artists are few and far between. We have a very active scratchboard forum on Wet Canvas, and I "knew" many of these artists from that, but to be able to meet so many artists with a background in such a unique medium was a wonderful experience. And then there was the exhibit of approximately 100 scratchboard works - it was phenomenal!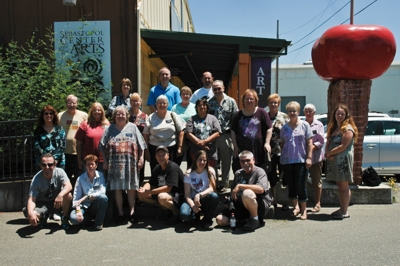 ---
The Pink Llama Gallery
And why I love the internet!
In June, I received an inquiry through my ArtFire shop from Tammie, who had seen my "Llemon-Llime Llama" and wondered if I had anything similar in pink. I did not, but this led to a fun piece of art. She was in the process of opening a new gallery in Cedarburg, WI called "The Pink Llama" and in addition to pink llama art, she was interested in some other pieces of my work. It was a pleasure dealing with Tammie and I e-mailed back and forth and talked on the phone. She ended up commissioning the pink llama and purchasing a couple of other originals, some reproductions and note cards. I sure wish the gallery was closer, I really like the unique assortment of items she's bringing in.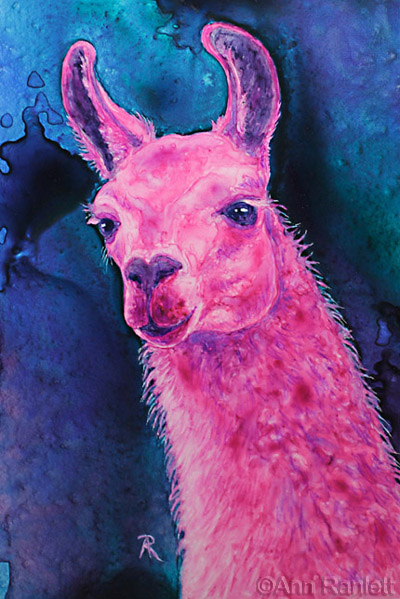 ---