"Percheron Power" Accepted in the
"Art at the Classic" Equine Art Show
At the Draft Horse Classic, Sept. 22 - 25 in Grass Valley CA

I'm pleased to announce that "Percheron Power", my scratchboard drawing of a grey Percheron draft horse, has been accepted into the the annual juried equine art show at the Draft Horse Classic. The "Art at the Classic" show features equine and western themed art from around the country and the quality of the entries is top notch. I try to submit a piece every other year; sometimes my work is accepted and wins a ribbon, sometimes not.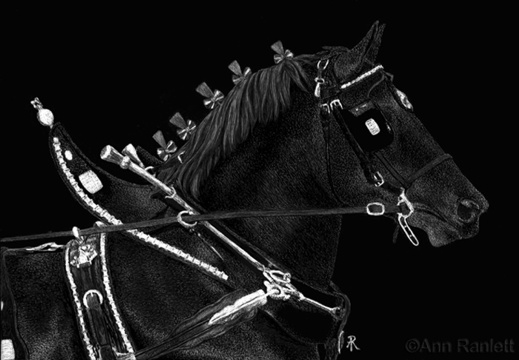 This is the finished drawing on a 5" x 7" board. You can see the reference photo and a few stages of it in on my blog. FYI, if you're on Facebook, I often post in progress images of art on my "Ann Ranlett's Art" page before I blog about it. Even if you don't have a Facebook account, you can still visit the page to see what I'm doing.
I've been working in ink on scratchboard since the late 90's - using boards with a white surface. Earlier this year, I decided to spend more time in the scratchboard forum of WetCanvas and discovered some spectacular work and terrific fellowship amongst the artists there. Most of them are working on the black scratchboard (it's basically the same as the white board, but it comes pre-coated with black). I've dabbled in the surface in the past, but was inspired to try it again. The Percheron is my fourth drawing on a black board and although I enjoy the surface, I won't be abandoning my white boards. It all depends on what I choose to draw - some things just work better on a white board than a black one.
---
Classes in the Works
Scratchboard and Watercolor on Yupo

And speaking of scratchboard, I've had a few people express an interest in taking a scratchboard class, so it's time to pick a date and schedule it. If I can round up at least 5 people, I'll teach a class (in Newcastle, CA). The maximum number of students is 10. My classes are 5 hour workshops where each student brings their own reference photos. For me, this works better than having everyone draw the same image because: 1) each person is working on something that interests them, 2) each image presents its own challenges, that we can discuss in class and, 3) students aren't comparing their version of the image to everyone else's. I provide the scratchboard (white boards) and a few other materials, students supply the rest.
I've also had interest in teaching a watercolor on Yupo class, so I'm throwing this out there as well. It's the same set up as the scratchboard class and I supply the Yupo and a few other items. Yupo is a synthetic paper that is very different from traditional
watercolor and I absolutely love it. I use it for my "Paintings with Petzazz" pet portraits.

If you're interested in either class, please contact me so I can start looking at dates.
Class supply lists and outlines for both the scratchboard and Yupo classes are available on my class info page.
"Ace"
Greyhound
Watercolor on Yupo
8" x 8"
---
Studio in the Works
A Permanent Studio Space in Our Garage!

This plan to create a permanent studio space has been in the works for a while. It's taking longer than I had hoped, but I can't say I'm surprised, as it's tough for John & I to coordinate our schedules to work on a project like this. Our contractor is lined up, but first, we have to move all of our stuff out of the garage so we can epoxy the floor before the contractor can do his job. Slowly but surely, though, it's happening and it will be worth the wait!

The plan is to split the garage roughly in half on an angle and I'll take over the back half. It won't be a huge space - roughly a 700 sq. ft. triangle with two blunt corners, but it will be a great place to be able to leave my work on permanent display for open studio events and viewings by appointment. And it will allow me to move some of the clutter out of my office, which is where I will continue to do most of my work. Well, there and on the living room couch (seriously - the couch is my "secondary workspace"). Once the work starts, it really shouldn't take that long - it requires a wall with a door, some electrical work, wall texturing and painting. I'd love to have my grand opening in October, but it may not happen until November. If you're one of my local subscribers, you'll receive an announcement by mail or e-mail.
---
A New Dog!
Arrow the Terrier Mix is Added to Our Pack
I just have to share our adorable new addition. Arrow (formerly Scout) was picked up as a stray by Placer County Animal Services at the end of June and transferred to AAARF (Auburn Area Animal Rescue Foundation) where he was fostered for a month. I saw him on AAARF's Facebook page and was smitten! I contacted his foster mom for details and thought he'd be a really good fit with our senior border collie, Magpie. He and Magpie met on neutral territory one morning and then he visited our home briefly. He went back with his foster mom for the rest of the day and then I picked him up that evening. Arrow and Magpie are getting along quite well and she's much more tolerant of him than I expected - we're very proud of her!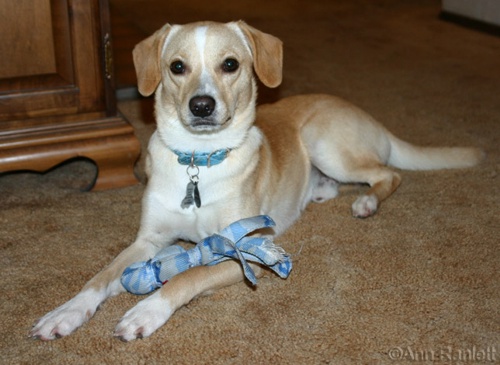 He's not at all what I thought we'd end up with as I've been looking at dogs after our wonderful Patch passed three years ago, but he's a great little dog - sweet, loving, athletic (you should see him jump!) and smart. I've posted a couple of videos of him on YouTube if you care to look: Video 1 & Video 2
---