My First "Real" Newsletter!

This is something I've wanted to do for a while and in a case of perfect timing, I recently received an e-mail from ArtCalendar about e-mail marketing. I did a bit of research to find the contact management/e-mail program that had the features I needed for a reasonable cost. I chose to use iContact.

In the past I've done a passable and functional job of sending announcements and information by using the body of an e-mail. But I've wanted to jazz it up a bit. iContact provides pre-made newsletter templates and an on-line database for storing e-mails. I'm comfortable with html coding, so I took the code for one of their templates and did my own thing with it.

I hope you enjoy the new format.

Because I started from scratch with my e-mail contacts list, a few of you who had requested to be removed from my e-mail list may have received this. I apologize for that - you can unsubscribe via the link at the bottom or contact me and I'll take care of it promptly.
---

I'm Moving to Bonanzle
Closing My eBay Store

First of all, a big thank you to all my buyers from eBay! I certainly appreciate your business and support.
I'll continue to list art on eBay on a regular basis because it still has the best traffic and I want to maintain a presence there. I'll have fewer items and they'll either be auction or fixed price listings.

I'm in the process of closing the store though and will have it cleared out by the end of the month. I've moved that inventory over to Bonanzle. Although Bonanzle doesn't offer auction style listings, they do offer a free entry level booth (shop) and have many nice features for adding and editing listings that makes it very easy for sellers. Although I haven't purchased anything there yet, by all accounts it's easy for buyers as well.



This image shows an assortment of the items that are now available in my Bonanzle Booth.

You'll find original art and a selection of items with reproductions of my work. Other than the magnets, I make/print the items myself - for that hand-made touch!


And you can still find my art on Etsy, ArtFire (new venue), CafePress and Zazzle.


---
My Latest Painting
Jack & Red Horse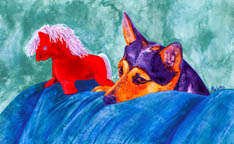 This is one of my "Paintings with Petzazz" - in watercolor on Yupo. Jack belongs to a friend and a photo of this image made its way to me. Jack's owner granted permission for me to use the photo for a painting and he has purchased the original. To find out the story behind this painting and where you can buy reproductions, please visit my blog.


---
Keep Up With the Latest
It's on My Blog

Remember that you can subscribe to my Blog or just visit it from time to time to see what I'm up to. I post my latest pet portraits & other art, event info, photos and other critter-related items. I'm also planning to offer select pieces of art for sale directly from the blog.

Because I know we all get too much stuff in our in-boxes, I don't intend to send newsletters more often than once every month or two, so the blog is the best way to follow along. I'm also on Twitter, where you'll find a few short posts nearly every day.


Thank you for your interest in my work and your support!
-Ann
www.annran.com